Fly Where Your Quality of Life is Better
We're looking for skilled pilots who don't just know how to fly – we want those who want to soar. In their career. Their goals. How they treat others. How they represent themselves and the company they work for.
These are the aspiring qualities we look for in our pilot crew. If you regard flying as more your true passion than solely your job, and dedicated to helping our customers ascend in their travel experiences, we want you to soar with us. And we'll reward you for it in ways only Airshare can provide.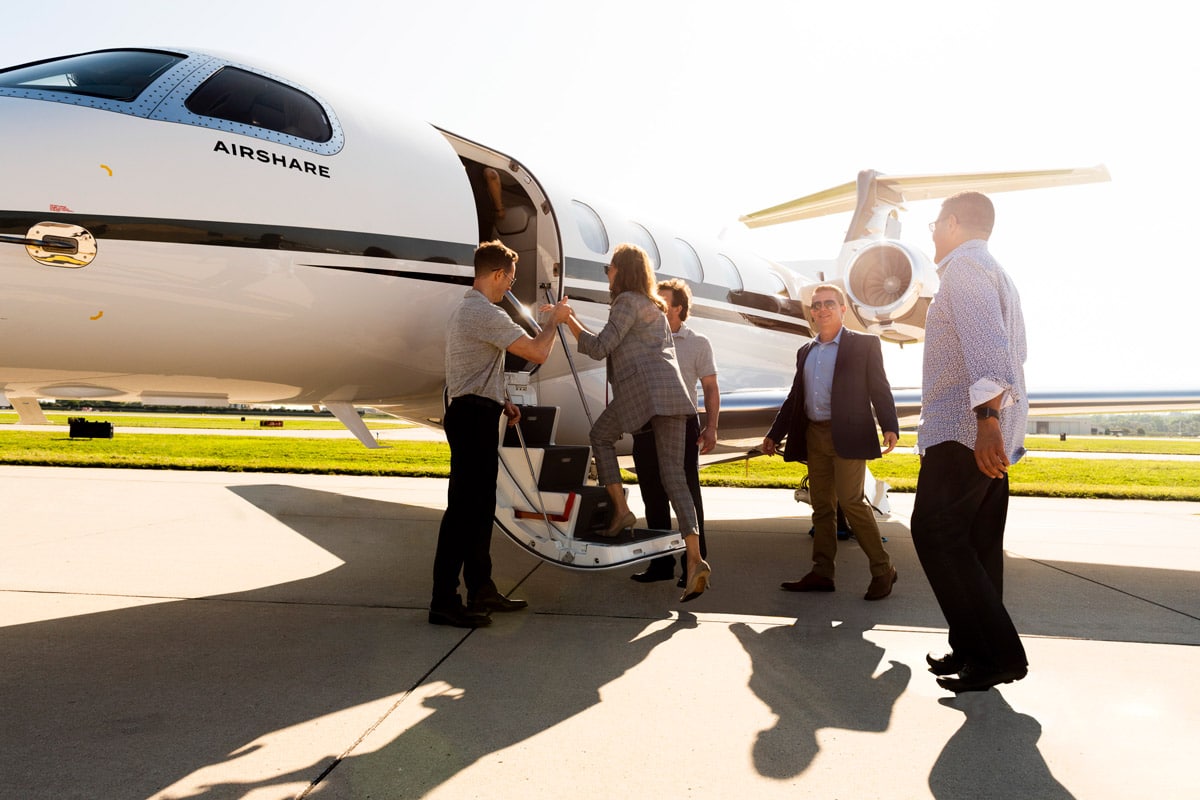 What a pilot salary looks like
*SIC salaries effective April 2, 2018. PIC salaries effective July 2, 2018.
Who we are.
Airshare was founded in 2000 and serves shareowners in Kansas City, Mo., Wichita, Kan., Tulsa, Oklahoma City, Fort Worth, Dallas, Houston, Austin, San Antonio, Denver and Buffalo, N.Y. Its subsidiary, Airshare Flight Services, manages aircraft for owners from bases in Fort Worth, Dallas, Wichita, Kansas City and Buffalo.
Airshare currently serves the Central U.S., Rocky Mountains and Great Lakes region, operating a fleet of Learjet 45XR, Phenom 300 and Phenom 100 aircraft. We pride ourselves on providing superior quality and personalized service at nearly half the cost of other fractional aircraft programs. Our aircraft have only about half the flight hours of other programs' aircraft.
Why you should fly for us.
We're family oriented and customer-service focused. Here are some of the highlights you would enjoy as a team member at Airshare.
Furnished iPhone and iPad Mini for business and personal use
Team environment working with a remarkable group of people
Job stability with more than 200 customers and 15 years of steady growth adding new aircraft and new markets
Competitive benefits including a generous vacation package; opportunities to earn bonus pay; health, dental, AD&D and life insurance; and 401(k)
ATP/CTP course will be covered by Airshare
Published 14-year fractional crewmember pay scale based on years of service and equipment type
Pilots-in-command (PICs) with more than one year of service utilize an 8-On/6-Off scheduling cycle*
Second-in-command (SICs) and PICs with less than one year of service use a 10-Available/5-Off scheduling cycle**
As of January 1, 2019: all PICs will be on the 8/6 schedule
*Rotations begin on Tuesday, Wednesday or Thursday, with every other weekend off. Occasional nights at home during 8 On. Twelve days of vacation/sick time not required to be taken in 8-day blocks.
**Average of 17 Flight Duty Days per month and an average of nine overnights per month.
Are you the pilot we're looking for?
We look for skilled pilots who will fit in with our growing team of exceptional aviators. Our crewmembers are dedicated to providing safe and efficient air transportation to our customers, representing our company in a professional manner and delivering legendary customer service.
Minimum qualifications.
Minimum SIC 1200 hours total fixed-wing time
Four-year degree or equivalent experience
Commercial multi-engine rating
First-class medical certificate
CFI certificate preferred
FCC license
or
Minimum 900 hours total fixed-wing time
4 year degree
Active employment as CFI.
Commercial multi-engine rating
First-class medical certificate
FCC license
What happens next?
If you're the kind of team-oriented, safety-focused, exceptional pilot we're looking for, we'll get back to you and start the conversation that could lead to a new opportunity for both of us.
Your future fleet.
We fly a range of proven, reliable, low-hours aircraft.
Embraer Phenom 300
Embraer Phenom 100
Learjet 45XR
* Rates shown are estimates only based on certain assumptions of Airshare. Rates do not include the acquisition or capital cost of the aircraft. Many factors affect the costs involved in operating business aircraft. The cost estimator is not intended as a budgeting tool and should not be relied upon as a prediction for the costs actually incurred. Airshare makes no representation or warranty to this effect and is not responsible for inaccurate prices. Rates shown do not consist of an offer by nor create any agreement of Airshare.
Flights operated by Executive Flight Services, LLC Air Carrier Operating Certificate #E07A355K